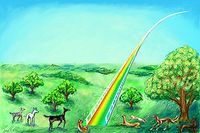 Rainbow Bridge
Home At Last Angels are the boxers who have come into our lives and because of our special Home At Last foster parents, were able to enjoy comfort and know what real love was before the end of their days here on earth. These special souls are missed but they live on in our hearts. Thank you to the kind and selfless foster parents who gave them everything they had.
Hello! I would like to present you my permanent foster Moose. Aka Moosifer, aka MousseMousse, aka Moosaka, aka Mooser. This gentle old man came to my home in the spring of 2011. He had been with BRQ since the summer of 2010, arriving from a local SPCA. Moose was like many boxers we take into our care, he was stressed and he had issues, not the least of which was one of aggression towards any other four legged creature. He could be on a walk, spot a dog two blocks away and change from a docile, sweet dog into a snarling lunatic. Along with this little issue he has an arthritic spine. Not quite a senior when he came to us but already just getting up in the morning was a painful struggle.

Many hours of work to overcome his aggressive behaviour, with the help of behaviourists, led to the successful transformation of our Moose. This was an expensive endeavor as it was a long process. As well as the cost of the behaviourists he had to be kennelled. We had no foster homes available that had no other animals. His back problems were brought under control with medication, massage and warmth. Once the aggression and the arthritis were dealt with we had the stress to conquer. This was the most difficult challenge. It took about seven months before he settled. This is a short version of some of the challenges and successes of one beautiful dog. 

2012 and 2013 were difficult for Moose health wise. He had surgery on both eyes, had a serious attack of pancreatitis which had him on an IV and lastly has had growths removed. Sadly, the growths were an aggressive form of cancer and his loving foster mom had to say goodbye to Moose in early 2014.
In March, 2012, Harley Quinn ( estimated to be approximately 10 years old) was rescued and brought to Boxer Rescue Quebec . He was considered an "outside farm dog" and had lived his life tied to a tree. He was brought to our vet where he was diagnosed with Hemangiosarcoma Cancer. An X-ray of his chest confirmed that it had spread to his lungs. Harley Quinn was given 4 to 6 weeks to live. Considered "unadoptable", Harley was brought home to spend his last weeks with his Foster Mom and 3 foster siblings. He would be cherished and loved for the short time he had left. Immediately put on a natural diet and given anti-cancer fighting supplements, Harley managed to beat the odds and spent a great two years with Boxer Rescue Quebec!  "Harley was kind hearted, loyal, loving and the most amazing dog I have ever known! I fell in love with him the first week I had him. I wanted to show him how much he was loved, even if it was just for a few weeks. I have been blessed to have had 2 wonderful years with him!" - Joanne BRQ HAL Foster mom