Born: 2008.10.20       Adopted: 2011.04.21      
Died: 2016.12.07
Back in December 2010 we lost yet another of our Boxers and once again I told myself that I would not be adopting any more Boxers. I just could not take the emotional strain. So I moped through the winter and in April 2011 contacted Linda Lloyd at BRO to say we were ready for another adoption. In no time at all, Linda put us in touch with Crystal at BRQ and days later I was heading to Trenton, ON to pick up Abby. 
  
Abby had had a very rough early life, being abused as a puppy machine. When seized by the SPCA, this 2-year-old girl weighed a mere 41 pounds. She suffered from separation anxiety and was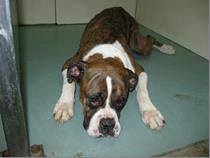 scared of men she did not know. That, of course, would be me at the beginning. 
  
Abby integrated quickly and accepted me within a week. We were successful in getting her weight up to normal. Within a couple of weeks she was running free in the dog park. All in all a lovely, gentle soul who was living the life that all dogs are meant to live. 
  
One day in February 2014 she suffered three violent bouts of vomiting and I took her to the vet. Evaluation of an ECG revealed she suffered from arrhythmogenic right ventricular cardiomyopathy (ARVC). The news got worse – the vets told us she would be gone in a matter of weeks or months. They also recommended constraining her activity. We decided to ignore this recommendation. We thought she would be happier with a short active Boxer life rather than a longer one as an invalid. And so after a couple of weeks of convalescence Abby was back to her normal self, helped on by a daily dose of medications. Abby refused to believe this talk about "weeks or months". 
  
Then in early December past she and I went for our usual morning walk in the dog park. We met up with a couple of dogs we know. Out of nowhere Abby sat down on the path - very strange behaviour for her. I called her to come and she lay down and then rolled over on her side. I could not get her up nor could I get a response of any kind. I rushed her to the vet in the hopes that she was still alive but to no avail; Abby had gone to the Rainbow Bridge. The vet said she had probably had a heart attack and would not have experienced any pain. 
  
We are shattered at the loss of Abby and take some consolation from the fact that she died doing what she loved and in the company of a human who loved her. We are grateful to BRQ and BRO for giving us the opportunity to love, and be loved by, our Adorable Abby.