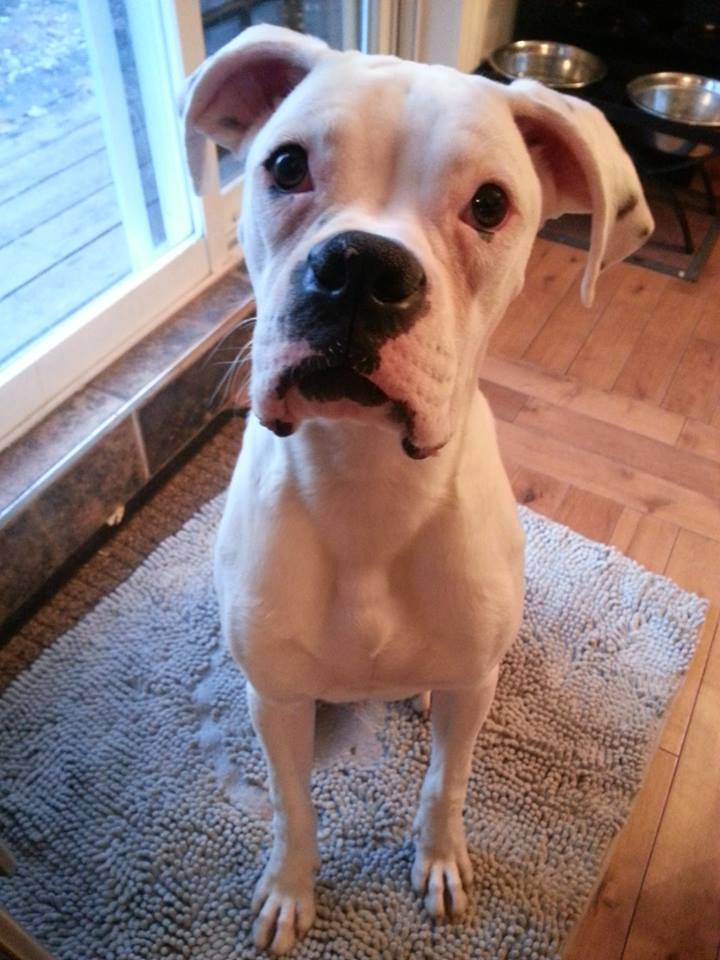 New Boxer for adoption!
Meet Oliver! He is apprx 8 months to one year old. He is a beautiful, white male boxer, with little discreet black flecks scattered across his coat. He was found living on the streets of Terrebonne, then put into a high kill pound from which BRQ rescued him moments before being put down.
Oliver is an absolute joy. He is the biggest cuddler with an even bigger heart. He loves dogs of all sizes, cats and humans of all ages. He has his bouncy moments throughout the day but is a fairly calm dog for his age. He is extremely food driven and is an extremely quick learner. He knows his basic commands (sit, stay, etc.) and will learn just about any trick if there is a treat involved. He can spend hours chomping on a bone or toy. He is very gentle but very curious of his surroundings. He generally walks quite well on leash, and absolutely adores car rides. 
He does suffer from separation anxiety and is going through training with Perfect Pet Training to help this issue. He is not a big fan of the cage nor being left alone. His forever family should be home more often than not and willing to continue with his training. He is such a sweetie and deserves a fantastic home! Please do not apply if you are away from the home for full workdays, or are not dedicated to continuing Oliver's training. 
If you are interested in adopting Oliver,
please apply.